THANKS FOR JOINING THE KETO REVOLUTION.
Your FREE Keto Diet Quick-Start Guide has been sent to your email.
Be sure to check your junk folder or promotions tab if you don't find it in your inbox!
KETO IN FIVE COOKBOOKS!
My friends over at Tasteaholics recently created a series of keto friendly ecookbooks, where each and every recipe can be made using only 5 ingredients. All the recipes are 5 grams of net carbs or fewer!
You can choose 1 breakfast, 1 lunch and 1 dinner from their Keto in Five cookbooks and know you're under your daily carb limit for the day.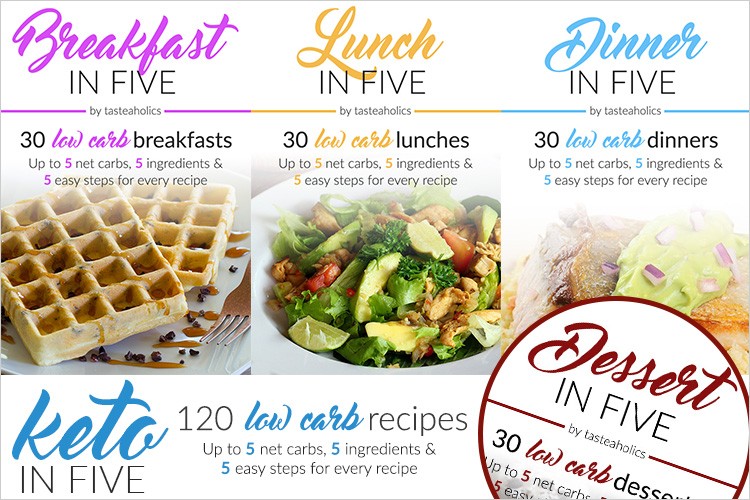 Each book contains 30 recipes all using just 5 ingredients. Every recipe is 5 grams of net carbs or fewer making them perfect for keto. Whether you're just starting your low carb journey or have been happily losing weight for a while, I'm sure you'll love these easy recipes!
meal plans
So you've read the Quick-Start guide and you're eager to begin keto. Still a little overwhelmed? Take the prep and guess work out of starting your keto journey with our Go Keto 7-Day Meal Plan.
All the info you need to start your keto diet journey and start losing weight. Our simple and easy to follow layout includes:
Introduction to keto.
Getting prepared.
Full 7-Day Keto Meal Plan, including shopping list, recipes, and daily macro panels.
Information and tips for maintaining nutritional ketosis after you've completed your first 7 days of keto.
Proven results - Mark @eatfatbeatfat lost 70 lbs in 7 months on keto. All with little to no exercise!
Go Keto 7-Day Meal Plan
Your complete plan to Go Keto and start losing weight with the keto diet. Instant download, pricing in USD.